January 10, 2021
2021 CEO Message & Download North
January 2021 CEO Message & Download North Newsletter
November 14, 2020
CATA in partnership with Lighthouse Labs and the Ontario Government Level Up the network for New Canadian Women in Tech
Following the first Level UP cohort, we've seen experienced New Canadian Women in Tech, graduates of Full Stack up-skilling at Lighthouse Labs, land their first tech jobs in Canada.
"We couldn't ask for better Ambassadors" says CATA CEO, Suzanne Grant. Grant knew instinctively the CATA Level Up Ambassador pilot program made sense. She drew on her personal experiences returning home from 14 years abroad where she made a career pivot to expat entrepreneur.  
It took me years to build meaningful relationships when I returned to Canada. It's just not efficient, so CATA designed a program that connects accountable Ambassador talent seeking networks with New Canadian talent. The Ambassadors intentionally insert experienced New Canadian women in tech to hiring teams. They're delivering a much needed levelling up of the network so these talented women can be seen. 
Beyond new Lighthouse Labs grads landing jobs, learning a new approach to life long career planning and gaining confidence in one to one interactions are main program take-aways. The unseen benefit of providing moral support in the isolated job hunt phase can not be underestimated.
Grant claims the real key to program success so far is careful selection of Ambassadors. "They have network, dedication, experience and emotional EQ.  I'm so impressed with Samer Forzley, Scott Wright, Samer Kassass and Dimple Thomas"  
The Level Up Ambassador program is currently onboarding their second Cohort.  4 Cohorts for a total of 60 New Canadian Women in tech will go through the pilot. 
September 23, 2020
CATA's policy approach recommended to nation leaders by OECD Chief Economist
Click the cover to open the magazine, or  View via Issuu
Download North – CATA – D17.pdf

In these fresh Fall days we embark on new beginnings, and for the Canadian Advanced Technology Alliance, that includes the inaugural Issue of Download North Magazine – People & Policy. Download North will reach the Prime Minister, Cabinet Ministers, MPs and the Parliamentary Press Gallery, as well as, 11,000 in the technology community across Canada.

A few days before the Throne Speech,  the Organisation for Economic Co-operation and Development (OECD) advised nations to adopt economic policies for small and medium enterprises (SMEs) aligned with solutions proposed by CATA. Our recent advocacy action, starting with a letter to Prime Minister Justin Trudeau on 3 April, is outlined in The Fall Issue above. OECD Chief Economist, Laurence Boone is giving clear economic policy advice to world leaders in her 20 September blog, Coronavirus: Living with Uncertainty:
'Support to firms must evolve to let non-viable firms go and encourage viable ones to grow. Equity instruments could be deployed for large firms, with state support, provided competition is preserved and a clear strategy for exit designed. However, it will require more creativity for SMEs, for example in the form of tax credits, with repayments occurring when firms sustainably return to profit'
CATAAlliance's  Resilience and Rebound Proposal is such a creative approach. 338 members of parliament have received this simple CERB like solution that uses government audited data to boost SME new market opportunity liquidity for GDP, R&D, economic and jobs growth.

Our efforts were influential in unlocking $200M in stalled R&D tax credits in April. The people at the Canadian Revenue Agency were the heroes of that story. 

Additional solutions have been shared and advised Minister Chrystia Freeland that CATA stands by ready to help. 
August 7, 2020
Reaching Your Everest – A Sales Journey. This Webinar series is for bold technology leaders redefining or refreshing growth strategies.
A word from the moderator and enterprise sales pro Kim Caves
There's a new buyer's profile in big companies.
Would you like to understand the many roles the buying team members?
Interested in avoiding procurement gotchas?
Could your business benefit by knowing the new challenges of the C-Suite after COVID (and how your business can meet those needs)?
If you are aiming for bigger and more sustainable deals, you belong in this webinar.
About the event
Climbing Everest is such a wonderful metaphor for our sales journey.
Common reasons people fail to reach Everest include;
surprise weather changes, crowds (competition), readiness and fitness, a solid plan, teamwork development, wrong tools, lack of oxygen and timing.
This isn't too far off what we might experience in our sales journey to win big deals!
You will leave the webinar with:
A toolset to assess each player on the buying team of your dream prospect.
An understanding of procurement teams
Kim Caves' buying team matrix
An invite to CATA's sales experts' SLACK Channel.
Join us on Aug 18 at 1 pm ET
Reaching Your Everest — A Sales Journey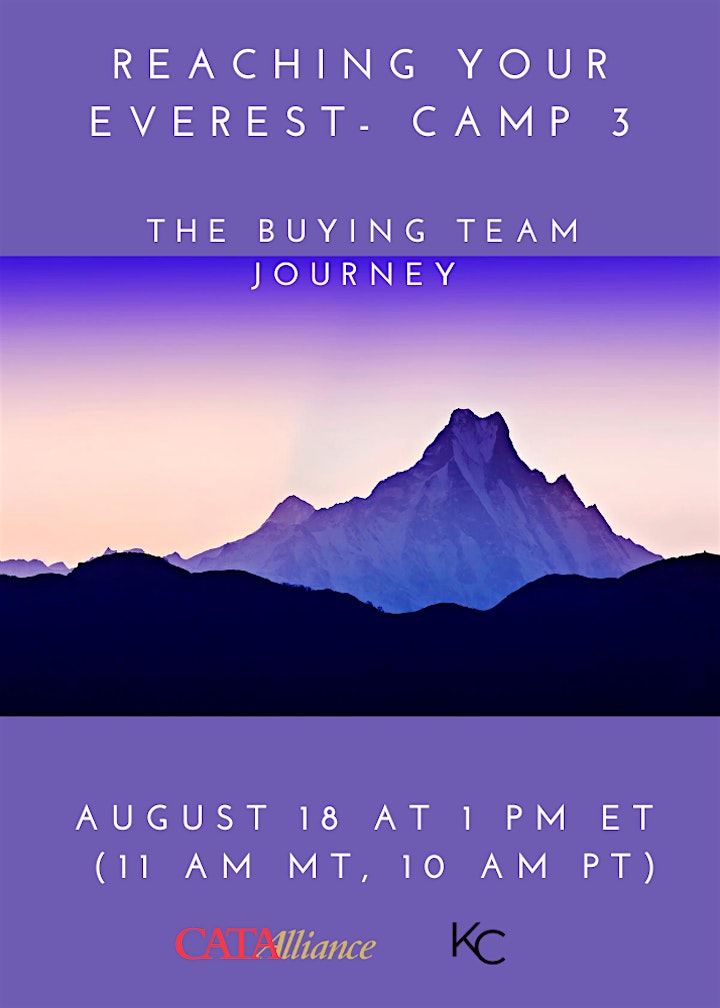 In Camp 2 we mapped out the relationship route. Contact Kim Caves to get your free prototype question kit.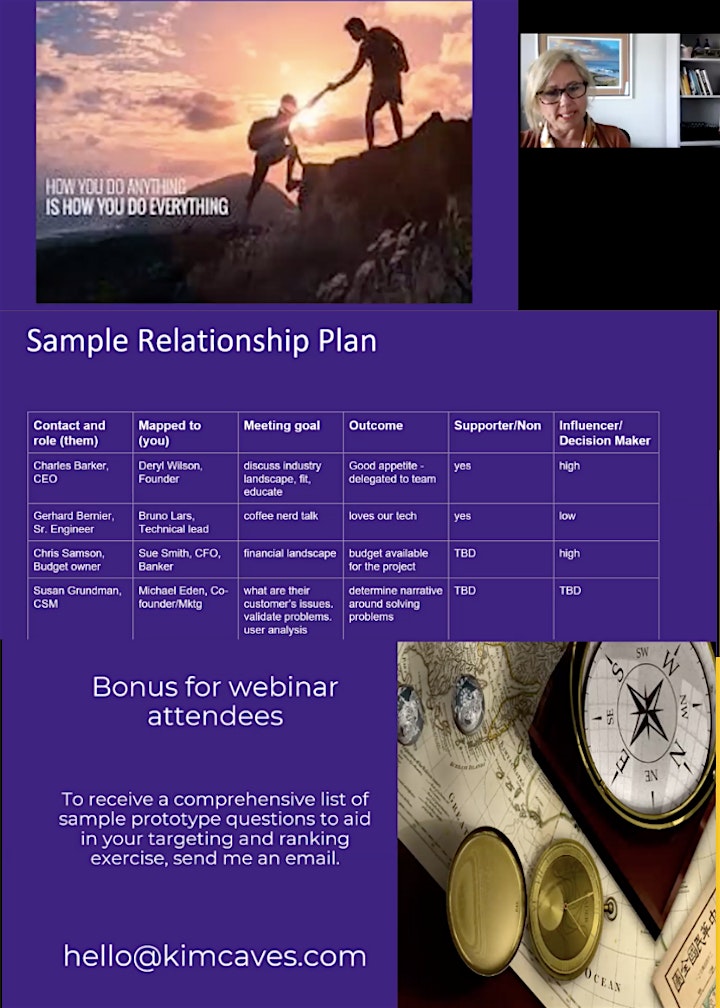 https://www.eventbrite.ca/e/114399166988
Reaching Your Everest is part of the CATAAlliance HowTo X.O Series 
 
Partnering with best selling authors, career sales and dealmaking pros, CATA's How to X.O (X dot oh!) is rolling as a member series on rethinking strategic relationships, sales, positioning and deals. This member series is open to CATA friends and CATA's Download North Newsletter subscribers for the pilot only. How to X.O (X dot oh!) is packed with tips, first principles and design thinking, forward looking insights, techniques and tools, and peer and expert engagement.
August 1, 2020
CATA CEO Suzanne Grant presents at CIGI/ Hon Mary Ng Round Table – 30 July
Exploiting current and imminent trade opportunities in digital technology hosted by Centre for International Governance Innovation and Hon Mary Ng 
CATAAlliance was invited as a lead intervener for: "Digital Trade: COVID-19 recovery and Canadian businesses". A synopsis delivered by CEO, Suzanne Grant follows. 
Expanding digital and advanced technology trade and exploiting opportunities starts at home – with resilient and agile small companies. The resilience suggestions that follow, are drawn from conversations with hundreds of innovators, and are the tip of the iceberg. 
Proportionate assistance, delivered at market pace and scale can help exploit new opportunities. Existing programs have delivered proportionate support to hundreds of companies but fall short of deploying assistance at scale or pace. Government data, and existing due diligence, can simplify liquidity assistance eligibility needed to bridge toward the future.  The RR Fund – Data Solution can bring people back to work and protect sovereign IP. 
As entrepreneurs pivot and adapt technologies to new applications, they struggle to meet new vertical first customer buyer and investor criteria. The government can lead in procurement of small. Overcoming bias, re-writing guidelines that skew towards big, and incentivizing Canadian & small company made technology purchases can help. 
We also recommend expanding the "Go Digital", a new program to upgrade businesses to e-commerce.  Why not incentivize private businesses to update their technology, and be more competitive, by purchasing Canadian digital and advanced technologies? 
And then when we looked at export development support, underwriting, and services, and financing through banks. Criteria and access are based on backward looking business models. A recently announced BDC program matches funding with new investment based on Intellectual Property valuation. This model is a solid step toward the future economy.  IP valuation should be more broadly applied to bank financing. 
Going Forward the pace of technology changes, enormity of global challenges and the hyper-competitive nature of markets, including major international investments into home based innovation, will drive the need for more private /public partnerships. Broader consultations with customer and competitor facing innovators are recommended.