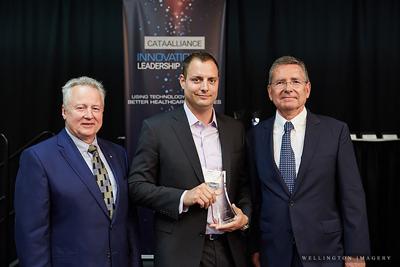 Simon Ferragne, CEO of Montreal-based TrackTik Software Inc., has been presented The Peter Brojde Award for Canada's Next Generation Executive Leadership for his role in developing first-of-its-kind technology that is disrupting the physical security industry worldwide.
Presented by the Canadian Advanced Technology Alliance (CATAAlliance), the award recognizes the executive leadership of an individual who has had a major impact on the creation, success and transformation of their enterprise and is representative of Canada's next generation of Innovation Nation business leaders.
The 2019 award winners were announced at the 34th Annual CATAAlliance Innovation and Leadership Awards Gala Dinner, which took place on May 15 in Ottawa. Each of the 10 recipients were celebrated for their innovation, expertise and leadership in Canada's high-technology sector.
"Our award winners and finalists have each demonstrated significant leadership as role models for the development of commercially successful enterprises in Canada," said John Reid, President and CEO, CATAAlliance. "CATA is proud to act as an advocate for them, to share their stories, and to provide a platform of programs and services to assist in fostering their growth."
Ferragne, who identified a gap in the physical security space and developed unique security workforce management software to fill it, has in just over five years grown TrackTik into an international operation, servicing hundreds of thousands of facilities across the globe. In doing so, he has reimagined every aspect of the physical security space and transformed the way security organizations operate, enabling them to perform at unparalleled levels of intelligence and efficiency, and ultimately, making people safer.
Recently named a Top 10 under 40 security leader by Canadian Security Magazine, Ferragne has seen TrackTik presented with several awards under his helm. In 2018 alone, the company was ranked No. 11 on the Deloitte Technology Fast 50 list, was named one of LinkedIn's Top 25 Startups in Canada, placed 36th on the Canadian Business 2018 Startup 50 ranking of Canada's Top New Growth Companies, and received a SaaS Award for Customer Success by San Diego-based APPEALIE.
—Canadian Advanced Technology Alliance (CATAAlliance)
—www.cata.ca
—TrackTik
—www.tracktik.com
—AB